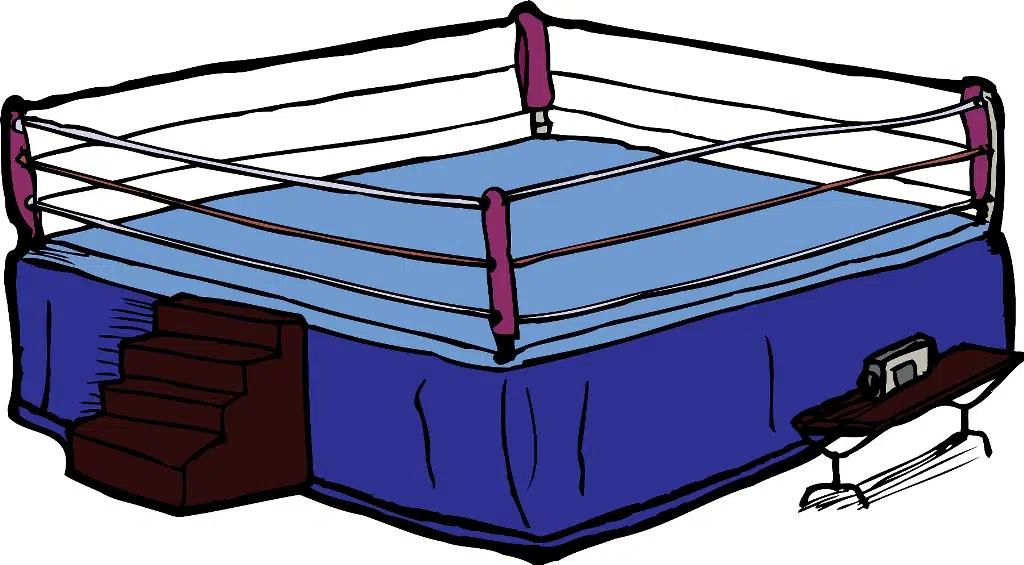 Normally, I cover mainly WWE with a quick glance at some other things going on in the world of professional wrestling.
WWE does have Money in the Bank set for Sunday for the folks on SmackDown Live, so I can touch on those, but that won't be the focus of this post.
Baron Corbin, Sami Zayn, AJ Styles, Kevin Owens, and Shinsuke Nakamura will compete in the titular ladder match for a shot at (seriously) Jinder Mahal's WWE Championship. On the women's side, the five not named Naomi (Becky Lynch, Charlotte, Tamina, Carmella, and Natalya) will compete in the first-ever Women's MitB match. That could get awesome as well.
Alright, on the main focus of this post: New Japan Pro Wrestling's Best of the Super Juniors 24:
In NJPW, there is seemingly always a tournament going on.
In March, there is the New Japan Cup, a single-elimination tournament where the winner gets a match for the championship of his choosing between the IWGP Heavyweight, IWGP Intercontinental, or NEVER Openweight Championships.
In May/June, there is the Best of the Super Juniors. The BOSJ is a round-robin format with two 'blocks' (A & B) of eight wrestlers each. You get two points for a win, with the block winners facing off at the end. The winner, provided he doesn't already have the belt, gets a shot at the IWGP Junior Heavyweight Championship.
In July/August, its the G1 Climax. This is the Big One, a heavyweight version of the BOSJ. The winner get a briefcase, awarding him a title shot at the IWGP Heavyweight Champion at Wrestle Kingdom on January 4 at Tokyo Dome. WK is the NJPW version of WrestleMania, except with logical outcomes. The twist with the briefcase? They have to defend it, and others can challenge for it, and win it, from you.
In November, it's the Super J Tag Tournament. This is essentially a tag-team version of the New Japan Cup, with the winners getting a #1 Contendership for the IWGP Junior Tag-Team Championship.
In November/December, there is the G1 Tag League. This is a mixture of the G1 Climax and The Super J Tag Tournament. It's round-robin, but the winners get a shot at the IWGP Heavyweight Tag Team Championship.
As you can guess, with it being June 2, we're talking BOSJ, Bay-bay!
This year, the A and B blocks were both loaded:
BLOCK A 
Dragon Lee- CMLL
Hiromu Takahashi- NJPW (Los Ingobernables de Japon) 
Jushin Thunder Liger- NJPW 
Marty Scurll- ROH/NJPW 
Ricochet- NJPW 
Taichi- NJPW (Suzuki-gun) 
TAKA Michinoku- NJPW (Suzuki-gun) 
Will Ospreay- ROH/RPW/NJPW (CHAOS) 
BLOCK B
ACH- ROH
BUSHI- NJPW (Los Ingobernables de Japon)
El Desperado- NJPW (Suzuki-gun)
KUSHIDA- NJPW
Ryusuke Taguchi- NJPW (Taguchi Japan)
Tiger Mask IV- NJPW
Volador Jr- CMLL/NJPW
Yoshinobu Kanemaru- NJPW (Suzuki-gun)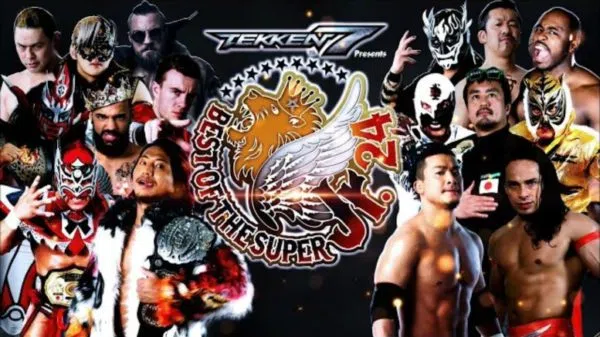 Holy Crap! Look at that field! On the A side, you have two legends in liger and TAKA, along with the up and coming Marty Scurll. Mix in the young guns that are Will Ospreay and Ricochet, along with the solid hands in Dragon Lee, Takahashi and Taichi, and that's a stacked block.
But on the B side, you have the star power. Ring of Honor's long-time stud ACH is there, as is a token CMLL inclusion in Volador, Jr, but he is super solid. And from there, the field only gets better. Taguchi is fun, as are the two Suzuki-gun representatives. But ti's the final three which bring the eye-balls and ear-balls. BUSHI has come on strong since returning from injury 18 months ago, and has the full-force backing of LIDJ, those bastards. Tiger Mask IV (yes, based on the TV character) is always good for a Holy S***! Moment. And KUSHIDA is a top 15 wrestler in the world (A WWW Top 100 is coming this summer).
So, let's get to the reviews!
BLOCK A
MAY 17
Ricochet v. Taichi
Taichi is a bastard, just sayin'. But this match had all the shenanigans you've come to know and love from the Suzuki-gunner. But Ricochet calls himself 'King Ricochet' on social media, and the way he hung in proved that nickname to closer to accurate than not. He takes this one in about nine minutes.
Dragon Lee v. Hiromu Takahashi
This was absolutely the best match of the first night. Takahashi had a great first few matches, which we'll get to, but this was the fire-starter. Non-stop for nearly 20 minutes, I was surprised when Dragon Lee pulled it out. Not because I doubted Lee, but because Takahashi has been kind of on a roll. The slaps near the end made my face hurt.
Jushin Thunder Liger v. TAKA Michinoku
The legendary Liger has stated that this BOSJ (his 25th!) would be his last. TAKA has partaken in many a BOSJ himself, and it really showed in this match. Liger was all over TAKA in the early going, but got caught by the younger veteran, and succumbed about nine minutes in.
Marty Scurll v. Will Ospreay
Ah, yes! The Villain against The Aerial Assassin. With Ospreay spending much more time in Japan, and Scurll recently signing and joining Bullet Club, the BC and CHAOS wars are going to kick up a notch. These guys, to me at least, seem to have great chemistry. And they do have a long history. It took a little bit to get going, but it turned into a solid match that The Villain took in about 13 minutes.
STANDINGS (May 17)
Ricochet 2
Marty Scurll 2
Dragon Lee 2
TAKA Michinoku 2
Taichi 0
Will Ospreay 0
Hiromu Takahashi 0
Jushin Thunder Liger 0
MAY 18
Taichi v. TAKA
These two Suzuki-gun stablemates really bored this match up. A few years back, AJ Styles and Bad Luck Fale (Bullet Club) did the whole teammate-against-teammate thing, and made a match out of it. This sucked. Because some one had to, Taichi got the 1-2-3 in about ten minutes. Pfft.
Dragon Lee v. Marty Scurll
This had a pair of rudo-ish grapplers, so you knew it was going to be full of cheating. It was, but it was still fun. Dragon Lee took this one home in a little under 15 minutes.
Takahashi v. Jushin Liger
Holy Crap! Liger, at this point, is definitely not looking like he should call his BOSJ career quits after June 3. He goes HARD against Takahashi, but the Ungovernable One gets the upper-hand (tried to take of the mask, to boot!) and gets the two points in around ten minutes.
Ricochet v. Will Ospreay
Their match a year or so ago pissed off a lot of in-ring old-timers and pure wrestling fans, but had me hooked. It was awesome to watch. They doubled the length of this match, but didn't really take out a lot of the fireworks. The thing is, that kind of made it fall flat for me. It was okay, but nothing like the 2016 match. Ospreay got the two, and Ricochet had a lot of company in the middle of the block.
STANDINGS (May 18)
Dragon Lee 4
Ricochet 2
Marty Scurll 2
TAKA Michinoku 2
Taichi 2
Will Ospreay 2
Hiromu Takahashi 2
Jushin Thunder Liger 0
MAY 21
Marty Scurll v. Jushin Liger
On paper, this is an interesting match-up. Liger in his last BOSJ, and The Villain in his first. Old vet, young and upcoming new-comer. It doesn't really get all the way up to the expectation, but it was a solid bout and a good showing from the newest Bullet Clubber.
Dragon Lee v. Taichi
This was pretty much Taichi and Suzuki-gun doing their thing. A heel group overwhelming a solo face. Add the hammer, and it was all Taichi in about ten minutes.
TAKA Michinoku v. Will Ospreay
TAKA opened this match getting the better of the Aerial Assassin with the Just Facelock. Twice. At first, it was outside the ring taking full advantage of the New Japan 20-count. When he rolled back in, Ospreay had to haul ass just to stay alive in the match. Only, when he got back in, it was Just Facelock time again. Opsreay, however, it much younger than TAKA, and uses that and his athleticism to knock off the vet in about eight minutes.
Ricochet v. Takahashi
This match was fantastic. Again, Takahashi is really coming into his own. And facing Ricochet allows him to show off a little bit more. Other than that, words can't really do this justice. Ricochet got the two points in about ten minutes-ish, but it was the best match of the night.
STANDINGS (May 21)
Dragon Lee 4
Ricochet 4
Marty Scurll 4
Taichi 4
Will Ospreay 4
TAKA Michinoku 2
Hiromu Takahashi 2
Jushin Thunder Liger 0
MAY 23
TAKA v. Marty Scurll
This was an okay effort from both guys. A little cute opening sequence with TAKA being more Villain-y than The Villain. But the newest guy in Bullet Club takes home another two points in about nine minutes.
Ricochet v. Dragon Lee
This pairing drew my eye when I saw that the Dragon and Ricochet were in the same Block. The rocket-fueled nature of both of these guys was really on display here. If you hate flyers, don't watch. If the flippy s*** trips your trigger, this is a must-view. I'll be honest, I'm a big Ricochet guy, and am a little bummed he dropped this one.
Will Ospreay v. Jushin Liger
With four matches in six days, the veteran Liger is starting to feel the grind a little bit. Not the same fire he had earlier in the tournament. Liger took the cocky Brit down a couple of pegs, but Chaos' future star still cruised to a win here.
Hiromu Takahashi v. Taichi
I don't really know how to explain what happened here. This first few minutes sucked, the middle part was odd, and the end was okay. Hiromu got the two points in about 15 minutes, but we all lost.
STANDINGS (May 23)
Dragon Lee 6
Will Ospreay 6
Marty Scurll 6
Ricochet 4
Taichi 4
Hiromu Takahashi 4
TAKA Michinoku 2
Jushin Thunder Liger 0
MAY 26
Marty Scurll v. Taichi
This was a different match. Usually Suzuki-gun gets to do the beatdown, but Bullet Clubber Scurll turned the table and laid out Taichi early. But it was quite enough, Taichi gets the win. Pfft.
Ricochet v. Jushin Liger
If Liger was 20 years younger, this would be a duo worth watching for year to come. But sadly, one of these two guys are a generation off. Jushin is trying desperately to hang with the kids in his last BOSJ run, but it's just not happening, and he's winless thru five matches. Ricochet in nine minutes
TAKA v. Takahashi
TAKA faking an injury will never not be great. And it worked, to boot! Then TAKA laid in the wood, but Takahashi has a reservoir of resolve that I am envious of, even if I hate it when watching it. Hiromu in about ten for two more points.
Dragon Lee v. Will Ospreay
I like the BOSJ because of the super-fantasy-booking provided. This was another one of those. Some of the top high-flyers in the world, going at it without the limitations of a WWE style. I thought the match of the tournament would involve KUSHIDA, BUSHI, or Ricochet, but this one may be it. The Aerial Assassin picks up another two points.
STANDINGS (May 26)
Will Ospreay 8
Dragon Lee 6
Marty Scurll 6
Ricochet 6
Taichi 6
Hiromu Takahashi 6
TAKA Michinoku 2
Jushin Thunder Liger 0
MAY 28
Ricochet v. TAKA
With no hope of winning, TAKA could risk a DQ, and he would…ahem..bend some rules to try and get the W here. Ricochet survives and wins in about seven minutes.
Liger v. Dragon Lee
Dragon Lee needs a win and some help from Taichi to have a shot at winning the A Block in a couple of days. Liger is winless in six matches, and hoping to go out on a win. Doesn't happen here, though, as Dragon Lee is just too young and athletic for Liger to keep him down enough.
Taichi v. Will Ospreay
The Aerial Assassin can sew up the A Block with a win, and Taichi in the same boat as Dragon Lee, needing a win to keep his hopes alive headed into the final day. Suzuki-gun does their thing, and Ospreay can't clinch.
Takahashi v. Marty Scurll
Marty Scurll is getting over huge in Japan. They are loud for this match, which is a decidely un-Japanese way to watch a match. Crowd love only goes so far, though, and Takahashi wins in a back-and-forth affair.
STANDINGS (May 28)
Will Ospreay 8
Dragon Lee 8
Ricochet 8
Taichi 8
Hiromu Takahashi 8
Marty Scurll 6
TAKA Michinoku 2
Jushin Thunder Liger 0
MAY 31
Liger v. Taichi
Taichi cutting Liger's gear up got me legitimately pissed off while watching it. I'm glad Thunder Liger got his BOSJ win in his final match. Especially overcoming the dastardly deeds of Suzuki-gun. Thanks, Liger!
Dragon Lee v. TAKA
Five guys at eight points on the final night, making for a great round of A Block finales. Liger get's a win, keeping Taichi out of the final. TAKA, well out of the picture, keeps Dragon Lee from the finals with the same way he tried to beat Ospreay. Dragon fires up, but TAKA takes him down in about ten.
Marty Scurll v. Ricochet
Scurll's loss to Takahashi is a killer, as he is out of the A Block picture, down two points to five different guys, two of whom match-up against each other. He has no way of winning, but you couldn't tell for most of the match. A lot of action that wasn't needed, but Scurll beat's the erstwhile Prince Puma to finish with eight points.
Takahashi v. Will Ospreay
Here we go! Essentially an A Block championship match between the hottest young gun in the world right now, Ospreay, and the highlight of the tournament, Takahashi. You'd think this would be a flippy event, which it has, but it was ultra-violent as well. Good gravy, can Hiromu lay it in. Ospreay held his own, too. And eventually, the Aerial Assassin overcomes and wins the A Block!
FINAL STANDINGS
Will Ospreay 10
Dragon Lee 8
Marty Scurll 8
Ricochet 8
Taichi 8
Hiromu Takahashi 8
TAKA Michinoku 4
Jushin Thunder Liger 2
B BLOCK
MAY 17
Tiger Mask IV v. Volador, Jr.
Tiger, just like his tag partner, Liger, is a veteran with a chip on his shoulder. He comes out strong, but the luchador rallies, and evens things out after the flourish to start. The thing about Volador: if you give him an inch, he'll take a mile. He's that talented. After about nine minutes, Tiger Mask learns why.
ACH v. BUSHI
When the draw was announced, I circled this one, too. I really like BUSHI, and ACH always makes things fun. This is ACH's first BOSJ, and BUSHI (lot's of caps, I know. Deal.) takes an early advantage. It's not until ACH goes after the, um, 'man region' that things every out. Lot's of high spots, and a bunch of stiffness. Good opener for both guys, and the rookie takes it in 12 minutes or so.
El Desperado v. KUSHIDA
About time for the Back To The Future cosplayer, KUSHIDA. He comes to the ring dressed like Marty McFly, and his finisher is the hoverboard lock. It's awesome. A great start to this one, but eventually KUSHIDA takes some measure of control. However, Marty Asami takes a bump, Suzuki-gun does their thing, and El Desperado gets the W in about ten minutes. The 2015 BOSJ is behind the eight-ball already.
Ryusuke Taguchi v. Yoshinobu Kanemaru
Kanemaru, a new addition to New Japan after a long time in All Japan and NOAH, comes in as part of Suzuki-gun's 'triumphant' return to NJPW after their takeover and dominance in NOAH. Taguchi is a fun guy to watch, a lot of ass-based offense and a lot of dancing, gaining the moniker "The Funky Weapon." TAKA tries to run the Suzuki-gun playbook, but Mr. Funky survives and gets the W in about 12 minutes.
STANDINGS (MAY 17)
Volador, Jr. 2
ACH 2
El Desperado 2
Ryusuke Taguchi 2
Tiger Mask IV 0
BUSHI 0
KUSHIDA 0
Yoshinobu Kanemaru 0
MAY 20
ACH v. Kanemaru
Kanemaru runs the first half of this match like it's a Last Man Standing match, and he has to keep ACH down for the count. Why? Beats me. ACH makes a comeback, but a single camera, commentary-free showing needs a little more. Kanemaru in ten.
KUSHIDA v. Tiger Mask IV
Production kills the match a bit, too. But I like KUSHIDA and Tiger Mask makes for an interesting match-up. Tiger catches the Tim Splitter, and KUSHIDA is 0-for-2 already. Not good.
BUSHI v. El Desperado
BUSHI does some Los Ingobernables de Japon-type shenanigans, and then El Desperado snaps. He starts tossing BUSHI around like a doll, into chairs and the rails and s***. BUSHI takes a great deal of a beating, and also the loss.
Taguchi v. Volador, Jr.
Taguchi does his Funky Weapon deal, and then it gets real. They trade some bombs, but otherwise, kind of a waste of time. Taguchi in ten minutes taking home a W.
STANDINGS (MAY 20)
El Desperado 4
Ryusuke Taguchi 4
Volador, Jr. 2
ACH 2
Tiger Mask IV 2
Yoshinobu Kanemaru 2
BUSHI 0
KUSHIDA 0
MAY 22
Kanemaru v. Volador, Jr.
Hey, look, Suzuki-gun. They do the thing, Kanemaru wins in ten. They are starting to work a by-the-book match, which gets boring.
ACH v. Tiger Mask IV
This one was similar to Scurll v. Liger the day before: an up-and-comer against a wily, masked, veteran. Tiger Mask gets irritated with the brash ACH, and potatoes his face a couple of times, and takes control. ACH shows up well at the end, but Tiger Dad takes this one just shy of 13 minutes.
El Desperado v. Taguchi
For a minute, I thought this was going to be another goofy Taguchi outing, until El Desperado buries him in weapons and does something….well, uncouth to the Butt Man's favorite weapon. From there, is a generic Suzuki-gun match. But since El Desperado is a joy to observe at his craft, it's not as bad as the others. Suzuki-gunner in 13 minutes.
BUSHI v. KUSHIDA
Before I got started with this match. I made sure to hit the can, make popcorn, get my icy-cold adult beverage, and change into a looser pair of shorts. I wanted to be comfortable. I was not disappointed. They smacked each other around, grappled a good bit (KUSHIDA is a joy on the mat), took to the air a bit, and slugged it out some more. If you're not on NJPWWorld, find this on YouTube. It could very well turn you into a NJPW fan. KUSHIDA plays the good guy, BUSHI does his bad guy things, it's great. KUSHIDA finally gets into the win column after about 16 minutes, leaving BUSHI winless in three matches.
STANDINGS (MAY 22)
El Desperado 6
Ryusuke Taguchi 4
Tiger Mask IV 4
Yoshinobu Kanemaru 4
Volador, Jr. 2
ACH 2
KUSHIDA 2
BUSHI 0
MAY 24
Kanemaru v. Tiger Mask
Kanemaru, for whatever reason, runs the Suzuki-gun match in much more boring fashion in the BOSJ than the other three. Bleck. He won again, though.
El Desperado v. Volador, Jr.
Another Suzuki-gun match. Beatdown, interference, hammer, blahblahblah. But, with a good dance partner, and the ability to be exciting in a broom closet, El Desperado makes it work. Speaking of a good dance partner, Volador picks up the W with a solid effort.
Taguchi v. BUSHI
Taguchi tries to funk, but the Ingobernable one goes off on the Funky Weapon early, forcing Taguchi to focus. BUSHI and Taguchi have gone rounds in the past, so ass-fense doesn't phase the mask JIDJ-er. He unfunks Taguchi in a little under ten minutes.
KUSHIDA v. ACH
With KUSHIDA doing work in Ring of Honor now, I was somewhat stoked to see a match I'd never thought would come about. ACH shows he power with a crazy dead-lift avalanche power bomb. With some announcers and full TV production, this match would have gotten raves around the world. ACH gets the big W over the 2015 champ.
STANDINGS (MAY 24)
El Desperado 6
Yoshinobu Kanemaru 6
Ryusuke Taguchi 4
Tiger Mask IV 4
Volador, Jr. 4
ACH 4
KUSHIDA 2
BUSHI 2
MAY 27
El Desperado v. ACH
ACH Scouting is a nice touch early, but El Desperado finds a way to take control, working over ACH's knee. ACH rallies, though, and works thru the pain and agony to get a win.
Volador Jr. v. BUSHI
I'll spoil the finish first, but BUSHI let Volador, Jr. get a lot of offense in before shutting it down. Volador is amazing to watch, especially doing Lucha things in CMLL. So far in the BOSJ, not as much. But working with BUSHI kind of seemed to kickstart the engines. Big things coming for Volador, Jr. BUSHI is awesome as always.
Taguchi v. Tiger Mask IV
Eh, old guy paint-by-numbers with Taguchi winning in about ten.
Manemaru v. KUSHIDA
Pro: KUSHIDA! Con: Manemura. Sad-face. Normal Suzuki-gun stuff, with KUSHIDA trying to get things under control. He wins, but I had to go back and look it up.
STANDINGS (MAY 27)
El Desperado 6
Yoshinobu Kanemaru 6
Ryusuke Taguchi 6
ACH 6
Tiger Mask IV 4
Volador, Jr. 4
KUSHIDA 4
BUSHI 4
 MAY 29
El Desperado v. Tiger Mask IV
It took me week to figure out why I like El Desperado's way with Suzuki-gun's formulaic matches. He doesn't waste time. Kanemaru really just wanders, as do Taichi and TAKA. El Desperado makes something out of anything. Including dumping Tiger Mask outside and putting him under a pile of chairs. Tiger takes a beating, and stays alive. He uses a little bit of harm to the official to win this match. Good for him heading into the final set of matches two days later.
Kanemaru v. BUSHI
Here we go again, with Suzuki-gun. But BUSHI knows all about bad guy team tactics. This helps him get the upper-hand. As does a cross body from an entryway! Holy S***! BUSHI is a madman. It settles in for about five minutes, then BUSHI gets the win after a few false finishes, each of which got me.
Volador, Jr. v. ACH
Volador with a little rudo action here, and I love it. Randy Orton won't, though. Dives a'plenty (google Orton and Dives. I'll wait……..have a laugh? Okay, good. Back in!), and a lot of room for Volador to shine in his element: the sky. ACH is a good bumper, taking a good deal of abuse, but he's great first BOSJ keeps rolling with another W.
KUSHIDA v. Taguchi
No Funky Ass-fense for Taguchi, which makes me a little sad and a little happy. I'm torn. Taguchi tries to grapple with KUSHIDA (LOL!) and I do just that. Ah, here comes the Ass-fense, first from KUSHIDA, then from the innovator (?) A super back-and-forth from these two makes it another YouTube-worthy effort. KUSHIDA is on a tear after losing the first couple.
STANDINGS (MAY 29)
El Desperado 6
Yoshinobu Kanemaru 6
Ryusuke Taguchi 6
ACH 6
Tiger Mask IV 6
Volador, Jr. 6
KUSHIDA 6
BUSHI 6
 JUNE 1
El Desperado v. Kanemaru
The last day of BOSJ features a match between Suzuki-gun members. But unlike their A Block brethren, these two actually get after it. I mean, TAKA and Taichi are there, and get involved, but the veteran is given the W at the end, he will be tied at the top.
ACH v. Taguchi
ACH let's loose with a couple of a$$hole-ish moves, including a chop to the man region. That's not very nice, ACH. Then he tries to Miz the Ass-fense from Taguchi, and that lights the fire. Taguchi comes back and takes the win in the last day. But this was a coming out party for the Ring of Honor vet.
Tiger Mask IV v. BUSHI
Tiger Mask doesn't want to screw around with BUSHI and any possible JIDJ shenanigans, but alas, that doesn't go according to plan. Tiger almost puts him away a couple times, but BUSHI survives and moves into a first-place tie.
Volador, Jr. v. KUSHIDA
The last Block match of the year for BOSJ, was probably the second best match of the tournament, behind the final. KUSHIDA and Volador have great chemistry and it showed here. KUSHIDA picks up the win after a superb 15 minute display.
FINAL STANDINGS
KUSHIDA 8
BUSHI 8
Yoshinobu Kanemaru 8
Ryusuke Taguchi 8
ACH 6
Tiger Mask IV 6
Volador, Jr. 6
El Desperado 6
FINAL
Will Ospreay v. KUSHIDA
The winners of the last two BOSJ are facing off here. Will Ospreay's coming-out party was last year, arguably the same could be said for KUSHIDA in 2015. Some one was going to become a two-time winner, joining the likes of Jushin Thunder Liger (3), Wild Pegasus (Chris Benoit-2), and Prince Devitt (Finn Balor-2).
Wow! This one was great. If Okada-Omega from WK11 is no the Match Of The Year, then this one should be.
Ospreay was busted open on his lip early, and that just made things better. To go along with the blood, Ospreay's potty-mouth was in full-effect thanks to some killer strikes from the Time Splitter.
Ospreay went to the kicks, reeling KUSHIDA for a few minutes. A Spanish Fly plus a Dragon Suplex gives KUSHIDA a little breathing room. A Shooting Star Press on the ropes, a reverse hurracanrana on the apron. This is INSANE!
Some of the other BOSJ competitors were milling around ringside, and Taguchi helps KUSHIDA regain a little composer.
To be honest, it was at this point I forgot that I was going to be doing a recap. I closed my laptop and buckled in for a fantastic finish. KUSHIDA hits the 'Back To The Future' (package driver) a couple times (three, maybe?) to finally put Ospreay down and take home his second Best of the Super Juniors title in three years. Oh, by the way, next week KUSHIDA will have to bounce back and take on the IWGP Junior Heavyweight Champion, Hiromu Takahashi
WOW!
Coming up Friday, a full-fledged preview of Money In The Bank. And Next Wednesday, a recap of this past Sunday's NJPW Dominion show, plus another "Indy Wednesday" Feature.